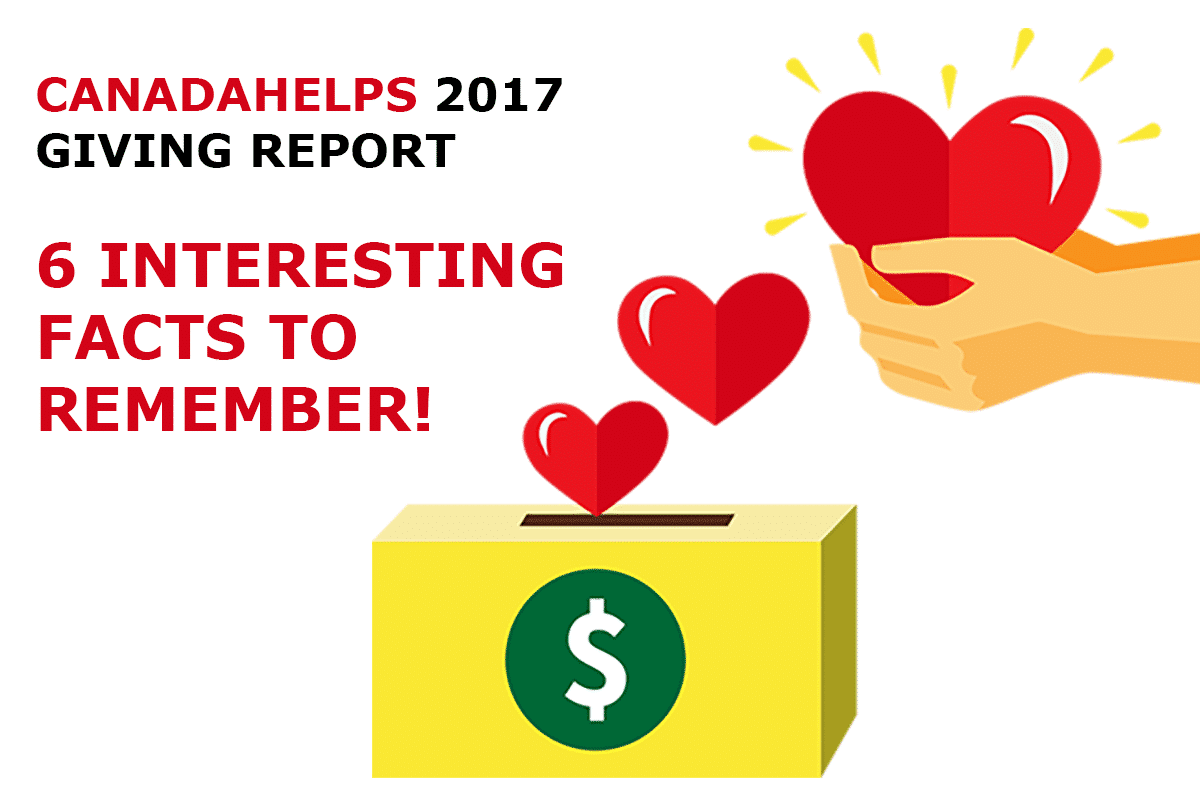 Espace idées   •   May 3rd, 2018
The 2017 Giving Report by CanadaHelps.org, a nonprofit organization whose mission is to increase charitable giving in Canada by facilitating the online donation and fundraising process, is a great tool to learn more about Canada's charitable sector and its donors. In this article, Espace idées highlights six interesting facts drawn from the study, but still invites you to read the report in its entirety. To download it, click here.
"33% of Canadian families and individuals who filed their taxes claimed charitable donations […] "
If we compare this 2015 statistic with results from 2010, we note a slight decrease of 3%. Are Canadians less generous than before or did they donate to organizations that simply cannot issue tax receipts? Did they forget to claim their tax credits or did they give volunteer time instead of making a financial donation? The philanthropy sector is constantly evolving and so are the ways in which we can contribute.
"49% of Canadian donors give to charities in the social services category and 36% give to those in the health category."
Health and social services organizations dominate in the hearts of Canadians when it comes to giving. "Just 1% of Canadian donors give to charities serving Indigenous peoples, 7% to those protecting the environment and 9% to those in the arts and culture category." Just as deserving, these organizations must often double their efforts to gain the attention and support of the public and potential donors.
"[…] online giving increased 22.5% per year on CanadaHelps' platform from 2006 to 2015."
It is essential for organizations to be able to accept online donations, especially if they want to more easily reach Generation X and Y. CanadaHelps even adds that "online donors are now increasing their annual donation amounts at a higher rate than their offline counterparts." It's also becoming important to offer online registration for your events. In 2018, people want to contribute in just a few clicks!
"Monthly donations now represent 15% of all donated dollars and 33% of the number of donations processed by CanadaHelps. Monthly donors are more loyal and give almost two times more than one-time donors."
More and more nonprofit organizations offer the opportunity to sign up for monthly donation programs on their online donation platform. It's always easier to retain existing donors than to find new ones. According to the CanadaHelps report, monthly donors tend to offer support for a period of 3 to 5 years.
In addition, "there is a true seasonal nature to giving. Each year, 35% of giving happens in December - 10% on the last three days of December alone." Many organizations plan to send out Christmas mailings because people are more receptive to different causes within a few days of the holiday season.
"Charities are vital to the Canadian economy, with 1 billion in annual revenue. To put that in perspective, that is more than twice the revenue of the big five Canadian banks (Royal Bank, TD Bank, Scotiabank, Bank of Montreal, CIBC) combined."
The importance of the charitable sector in Canada is significant. There are nearly 86,000 registered charities (not counting all other non-registered nonprofit organizations) and they employ "over 1.7 million people on a full-time basis". But although we have a large charitable sector, "80% of charities in Canada are small with total annual revenue of less than $ 500,000 in 2015 and only 7% made $ 2.5 million or more".
"In 2015, 41% of funding to small charities (with incomes below $ 500,000), came from receipted gifts."
Although government funding accounted for two thirds of all nonprofit revenues in 2015, smaller organizations received more revenue from donations (receipt-based donations). Community support therefore remains extremely important to ensure organizations can pursue their missions.